An Old Hollywood Starlet's diet can be a hard one to examine… mainly because they are usually signs of the times.  We have had a vast change in our thinking about food over the years so I would not advise following a star of the 1940s or 1950s diet exactly.  But there are a few lessons we can learn as a few of them were ahead of their time.
Start the day with a pick-me-up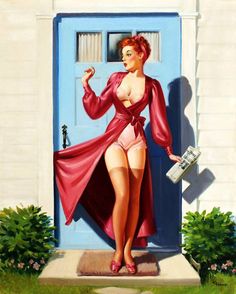 You are now the star of your own movie, and as a movie star, you have a very exciting life.  So if you are not a morning person (and really, what movie star is?) you probably need some caffeine in the morning.  Now many Starlets drink coffee, and if that's your preference then go for it.  They have discovered many health benefits to drinking coffee (just be careful of the excess sugar and cream).  If you're like me, as well as vintage starlet Lana Turner and current glamour queen Dita Von Teese, and coffee is not your thing (in Lana's case she gave it up because she was afraid of staining her teeth) then you can drink tea.  Green, black, herbal… whatever your preference!
No matter what your drink of choice, you will never see a true glamour girl rushing off in sweatpants to the coffee shop to get a mocha latte-a-ccino.  If you don't have a significant other or personal assistant to get one for you, I suggest making your coffee/tea at home.  You will save money, you won't have to wait in line, and you can enjoy your beverage of choice in the comfort of your own home.
Note: if you need a pick-me-up later in the day, by all means stop at a coffee/tea shop, but shop around and try to find one with a nice atmosphere and pleasant service.  Give your time and money to businesses that treat their customers well and you will be in a better mood all day and feel like the Starlet that you are.  
Breakfast is the most important meal of the day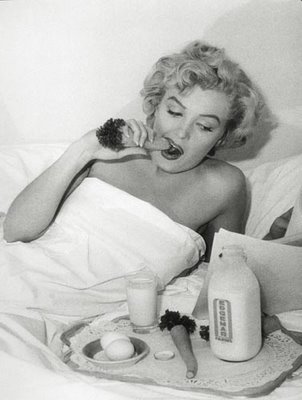 I never really understood people who don't eat breakfast.  I would be chewing on my own arm by lunch if I skipped the first meal of the day.  That does not mean that Breakfast should be large, fatty, and filling.  On the contrary, it should be healthy (except for special occasions like holidays and vacations when you can go all out).  Many Old Hollywood Starlets started their day with oatmeal (like Grace Kelly, and Marilyn Monroe on the occasion she didn't sleep through breakfast).  A small bowl of oatmeal is still a great choice (I recommend starting with oats and mixing your own with milk or almond milk, cinnamon, honey, and maybe even some berries… the pre-packaged stuff is full of preservatives and not that much quicker to make).
Modern day glamour girls can do green smoothies.  They are new and trendy but they have the Dita Von Teese stamp of approval (and they really do taste better than they look).  Ms. Von Tesse swears by The Beauty Detox Diet.  It's a book worth checking out.

Many of the old studio system starlets also started their day with grapefruit.  It's still a healthy choice, but it has been known to counteract with some medications and some people just don't like it.  I recommend some fresh squeezed lemon in the morning.  I put it in my tea but you could put it in water as well.
Snack healthy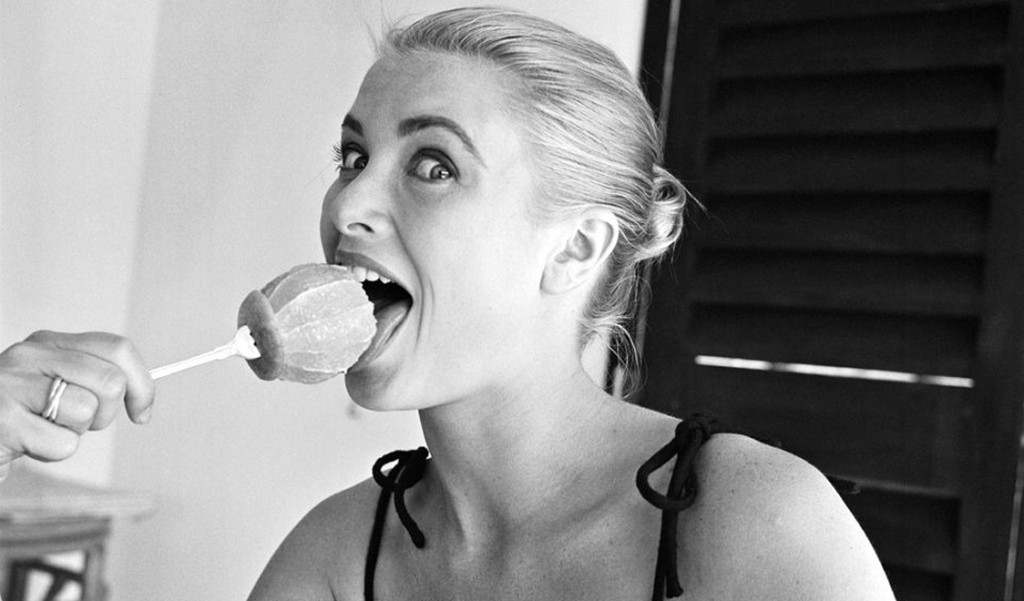 Many think that having healthy snack throughout the day is modern thinking but it is not a new concept.  If your life is a movie then the college cafeterias/office lunchrooms/fast food joints/etc are your very own crafts services table.  Many Old Hollywood Starlets avoided these temptations by carrying healthy snacks like veggies, fresh fruits (like grapes…  I mean who doesn't feel like a goddess eating grapes), dried fruits (dried prunes are surprisingly sweet), freeze dried fruit (crunchy and sweet like candy only healthier), nuts (like almonds, pecans, etc), and seeds (like pumpkin or sunflower).
Note: A Starlet may try probiotic yogurt (although she prefers her good bacteria in a pill form to take with breakfast) but she definitely would never talk about it.
Drink Your Water
This should go without saying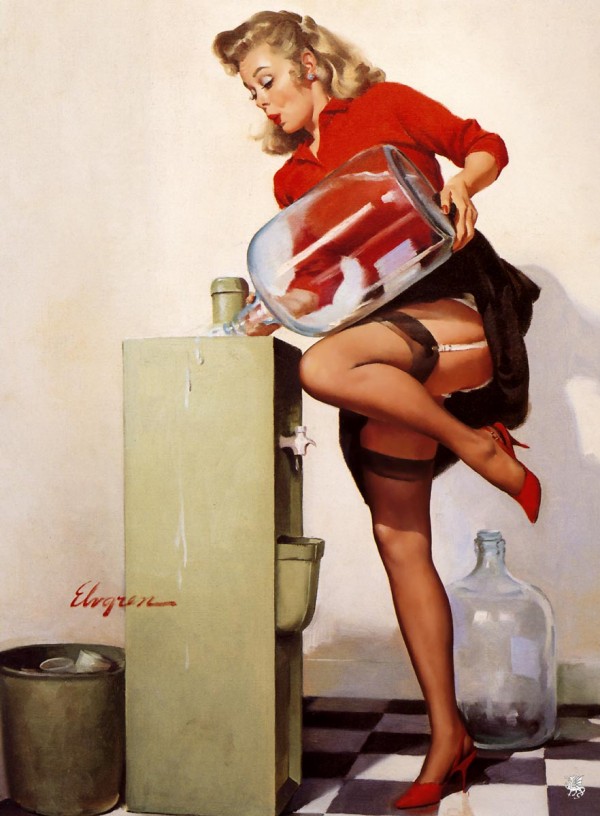 Try to keep lunch healthy 
It's okay to treat yourself once in a while but most Starlets (past and present) know that a salad is the ideal lunch.  Now what you put in that salad can vary based on your preference.  Make sure you get lots of veggies and some kind of protein (many Old Hollywood Stars were way ahead of their time with the low carb diets).  I would also recommend a simple dressing of olive oil, salt and pepper and your choice of vinegar (or my personal fav: lemon juice… I always keep fresh squeezed on hand).
Learn to love cooking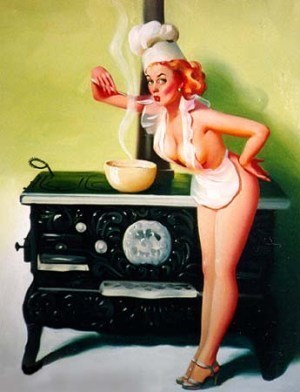 Okay, so many Hollywood Starlets did not cook, they didn't have the time and most had "people" to do those things for them.  If you really hate cooking I suggest you marry rich so you can hire a chef.  If that is not an option (or even if it is) I think you should fall in love with your kitchen time.  Cooking can be meditative and spark creativity, and there is nothing that makes you feel more feminine than putting on a beautiful apron getting some pretty kitchen gadgets and making a meal for yourself and your loved ones.  I'm not suggesting you need to become the next Top Chef.  I'm just suggesting you find a few basic recipes and give them a try.  Have fun with it!
Keep things spicy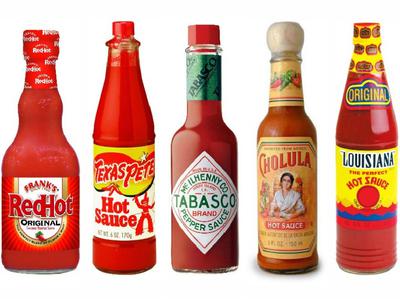 Lana Turner believed that hot sauce would help rid your body of toxins.  So she carried it around with her and put it on everything.  One thing we do know is that spicy foods help speed up your metabolism.  So why not try some (be careful if you have a sensitive stomach).
Keep dinner traditional with a twist 
Many Starlets of the past had a meat and potatoes dinner which was a sign of the time.  However, a balanced meal of protein (chicken, fish, etc), with a side of veggies, and a potato (try a sweet potato for more nutritional value), is still the ideal way to end a day.  You can even have a little of your favorite ice cream for dessert (Marilyn did… her fav was vanilla).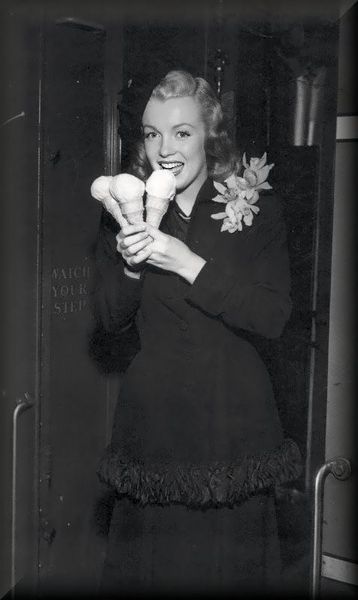 Note about eating meat:  Many Old Hollywood Starlets were very big animal rights activists.  However being a vegetarian/vegan was not as popular back then, and they didn't have the advancements in balanced meatless foods.  Nowadays there are limitless meatless options, and if things had been like that back in the 1950s it's likely that more glamour girls would have gone this route.  If that is your preference go for it.  Just be sure you are getting enough protein and nutrients from your meals
Today we focused mainly on the everyday diet, and we will focus on special treats, dining out, cocktails, finding recipes, cooking tips, and entertaining in future posts.  So stay tuned!
Kisses
Sarah
Feel free to comment/like/share with all of your fabulous friends