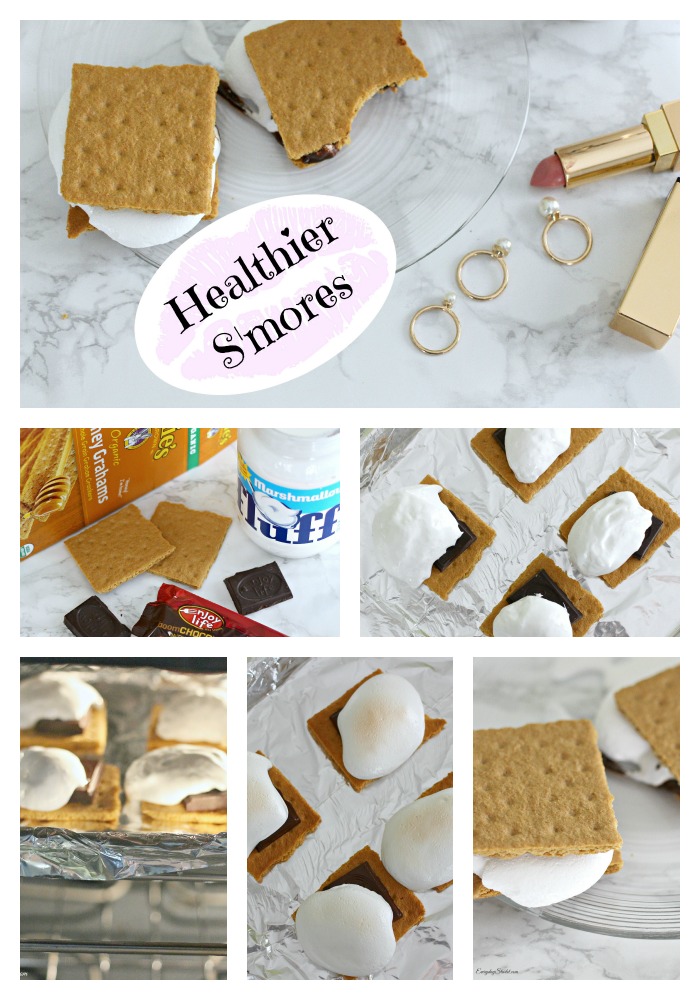 It just doesn't feel like Summer until I have s'mores.  But I certainly don't want to deal with the whole campfire thing (I prefer being indoors, bug-free, with the AC on thankyouverymuch).  I've also become averse to marshmallows.  It started with my quest for vegan rice krispie treats.  I read one recipe that said not to Google how they make gelatin, because you'll never eat a marshmallow again.  I did… and I won't.  Marshmallow fluff however, is gelatin-free (although it has egg whites and a lot of sugar, so it's not technically "vegan" or "healthy"… it is a step in the right direction).  In my quest to go dairy-free, I found some vegan chocolate, and organic graham crackers.  I decided to try toasting the fluff under the broiler.  They must be watched very carefully, because the graham crackers can start to burn… but they don't need much toasting for the fluff to get a crisp crust.  It may not be as healthy as a bowl of fruit, but I like these s'mores even better then the original!
Healthier S'Mores
Organic Graham Crackers (I used Annie's)
Vegan Dark Chocolate (I used Enjoy Life)
Marshmallow Fluff
Place a square on graham cracker on a cookie sheet (cover in foil for easy cleanup).  Top with a square of chocolate, and top that with a spoonful of fluff.  Place under the oven broiler.  Watch closely, until fluff just starts to brown (careful not to let the graham cracker burn).  Place a graham cracker square on top of the s'more.  Enjoy!
I'm excited to try out different flavor combinations!