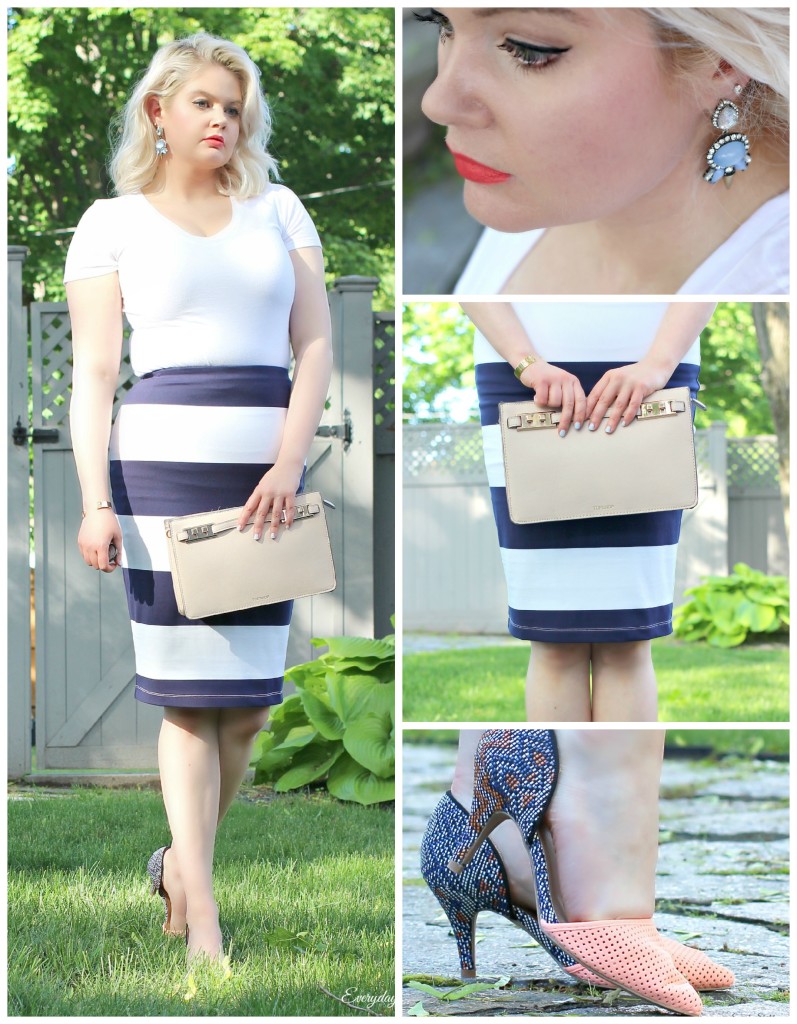 I've been thinking for a while about doing a series of fashion for women with a full bust. I don't see that represented on many fashion blogs. There are blogs dedicated to plus sized ladies (and there should be, because they really do deserve to feel just as fabulous and fashionable as the size 2s). However, some of us busty ladies are not necessarily plus sized, just top heavy. Since I've been dealing with dressing with a full bust for… well… my whole life really… I thought I would do some fashion posts dedicated to us top heavy fashionistas. I'm thinking of calling it "Fashion or Bust."
For those of you who think a girl with a full bust has no problems… you've clearly never had your button-up shirts bust open at the most inappropriate time. I could actually debate all day the positives and negatives of being an apple shape (I actually call myself a strawberry shape… wide at the top and narrow at the bottom). I can never find pants that fit (too tight in the waist, too big in the backside). I have to special order bras (and pay twice the price that normal busted ladies pay). Plus boys don't listen to any noise that comes out of me from the waist up… it's the age old question: if a woman with a large chest says something interesting, and there are only men there to hear it, did she really say anything at all?
But one benefit of being top heavy: I can wear patterns, colors, and prints on my bottom half that other women don't necessarily feel comfortable in. Now, my fashion philosophy is: if it makes you feel good, wear it! However, I've known many women with full hips and butts (you may not believe me, but I'm jealous of your JLo booty) who shy away from bold colors and prints on the lower half…and would never wear horizontal stripes on a tight pencil skirt.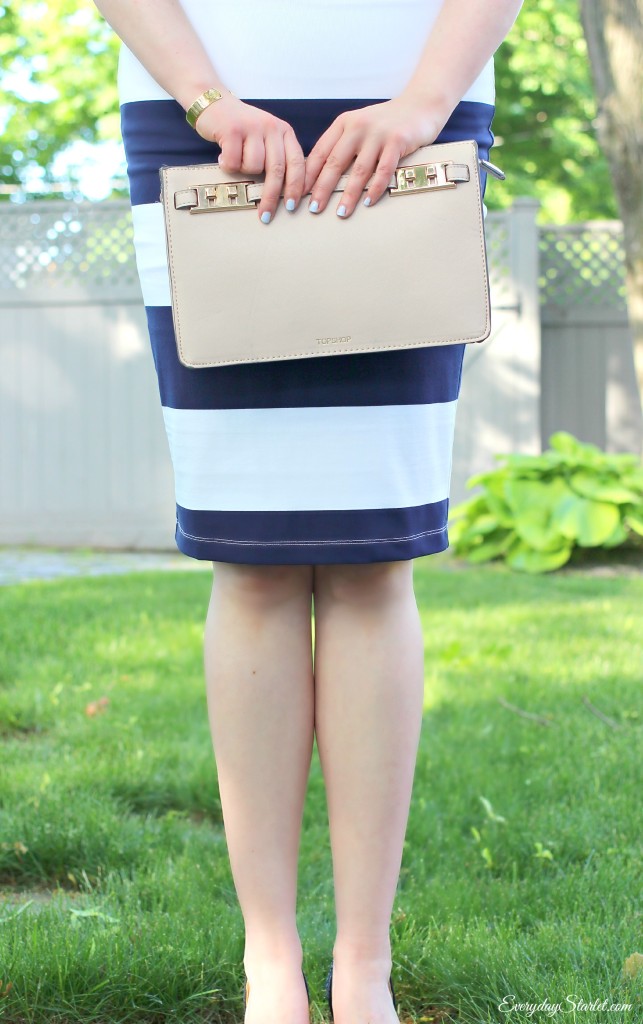 Ironically, this skirt is from Jennifer Lopez for Kohls. I got it last year at the end of the season, so I decided to break it out this year. I kept it simple with a white t, statement earrings, a nude clutch, and shoes from my recent haul.
Skirt: Jennifer Lopez for Kohls (no longer available, similar here)//Shirt: Forever 21//Earrings: BaubleBar (also seen here) they are no longer available but BaubleBar has a great selection of statement earrings//Bracelet: BaubleBar (also seen here)//Clutch: TopShop (no longer available, similar here//Shoes: Charlotte Russe (also seen here)
Women can get so down about things they don't like about their bodies, I encourage you to make a list of things about your body that other women may be jealous of… also make a list of things that you can pull off that many others can't… maybe a color, pattern, or shape. We all need to take time to appreciate our bodies, so make a list just for you (and those days when you're feeling less than glamorous).
… and if you're a busty lady, I'd love to hear from you… let me know what trend/look/style/clothing you'd like to see me style!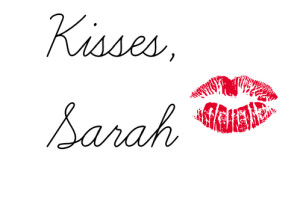 This post/video is not sponsored. All opinions are my own. All products mentions were purchased by me unless noted with an asterisk (*). This post contains affiliate links, that means that if you purchase any of these products, I receive compensation, through no extra charge to you. That income will go towards making ES even better.
buy aygestin online https://bethanyhealthcare.org/wp-content/languages/new/aygestin.html no prescription
… also, I am again honored to be included in IFB's Links a la Mode!
Links à la Mode, June 11
SPONSOR: Shopbop, coupons, Plaid Dresses, suede flats, Kacey K, Jenny Kwon, Pascale Monvoisin, LeSportsac, Red Heels, Jelly Flats & Shoes
buy avapro online https://bethanyhealthcare.org/wp-content/languages/new/avapro.html no prescription
1. Heads up! We've changed our submission process. First, read LALM's submission rules here. Then submit your links on our Facebook page in the comments section of this post.
buy flomax online https://bethanyhealthcare.org/wp-content/languages/new/flomax.html no prescription
2. If your link was selected and you need this week's code, visit this page: Links à la Mode Code.