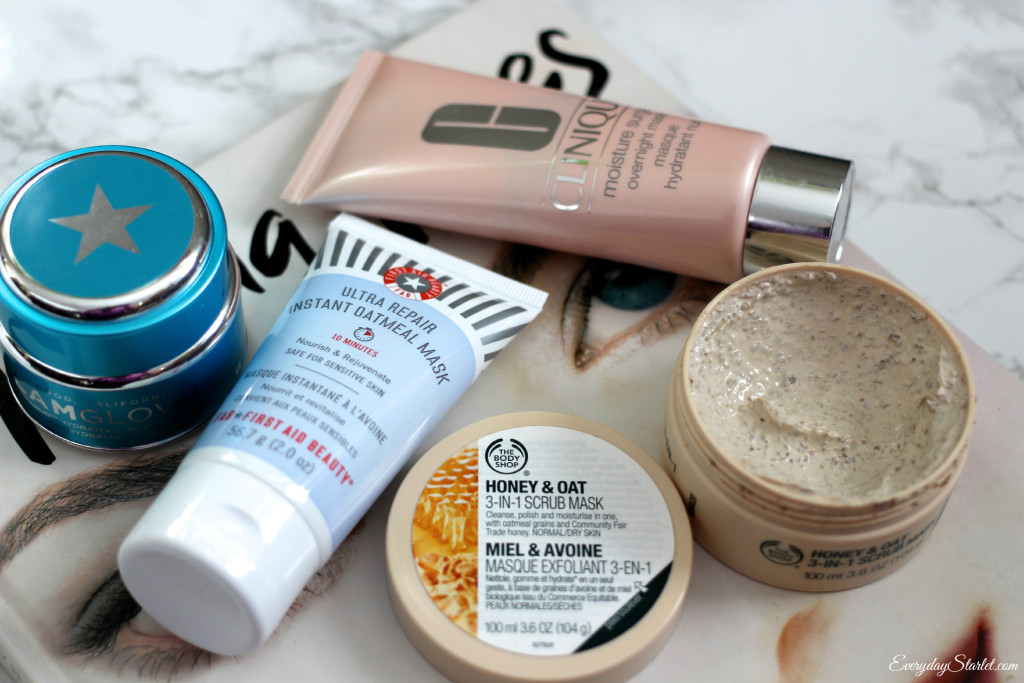 I don't know about the rest of you, but this winter has kicked my skin's butt (I know that doesn't make sense, but you all know what I mean).  My normally sensitive-but-oily-and-acne-prone-but-also-prove-to-redness skin has added dry to it's list of issues due to cold temperatures and artificially heated rooms.  So adding a face mask to my beauty routine seemed like a good (and luxurious) way of dealing with this problem.  Here are some of my favorites that I've been trying…
The Body Shop HONEY & OAT 3 IN 1 SCRUB MASK This mask smells heavenly, and it's pretty affordable.  I don't know if it acts much like a scrub, as the name implies, but my skin felt great after using it.
First Aid Beauty Ultra Repair Instant Oatmeal Mask I have recently discovered First Aid Beauty, and I'm loving the line.  It's made for sensitive skin, and it's reasonably priced.  I like this mask, and it did make my skin feel good, but I wouldn't say it's anything revolutionary.
Homemade There are dozens of mask recipes that you can find online.  An easy one is just to mix some oatmeal and honey together and apply to the face…. if your skin is acne prone, you can also add a little lemon juice.  It's inexpensive, and great in a pinch.  But it takes time to mix it, and that is time that could be spent relaxing with a pre-made mask on your face.
GlamGlow THIRSTYMUD™ Hydrating Treatment  This is the priciest option.  GlamGlow is a new line that is getting a lot of hype.  I was hesitant about this mask, as I always am with new products, unsure how it would react with my skin.  I was pleasantly surprised.  My skin felt super soft after I used it.
Clinique Moisture Surge Overnight Mask  I use this mask every night before bed as my night cream.  It adds great moisture without being oily or greasy. I don't use this as a weekly mask, but, as a night cream, it's saved my skin this winter.
Have you tried any of these masks?  Do you have a favorite go-to winter mask?