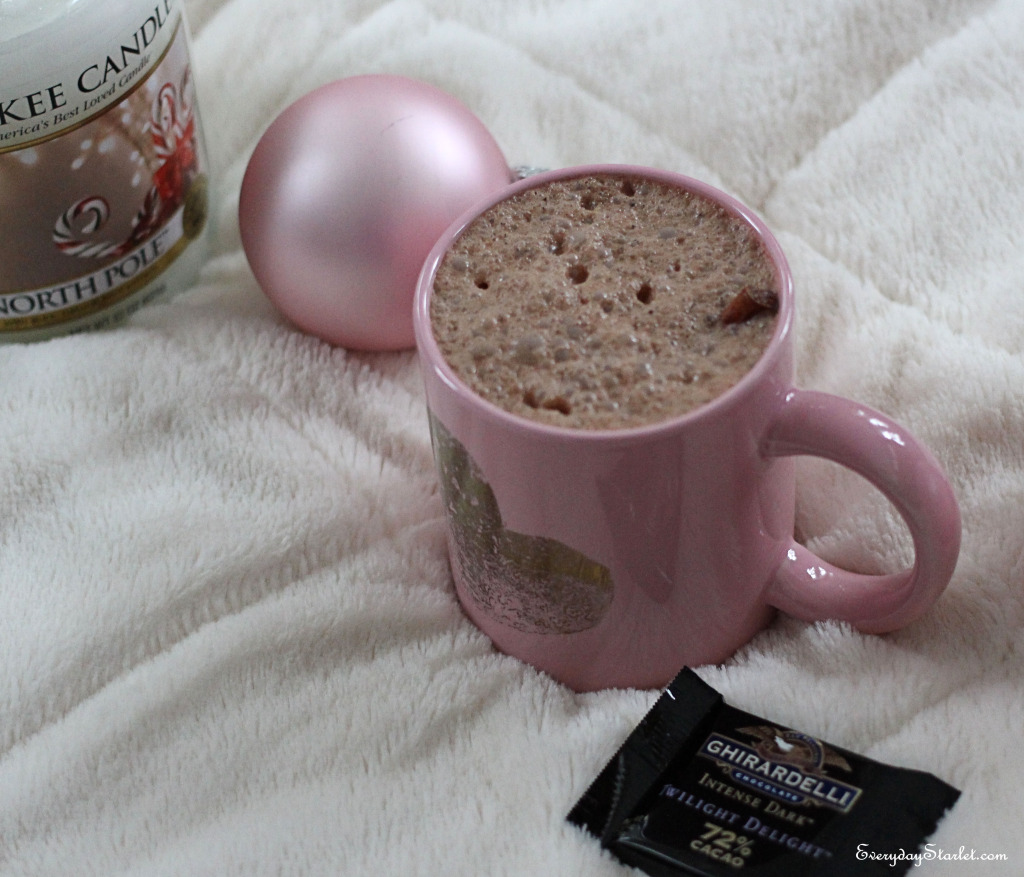 This time of year practically screams for Hot Chocolate, especially here in New England. I have been trying to avoid dairy and limit my chocolate intake, so I was expecting to avoid the indulgence this year.  However, my cravings got the best of me, and I became determined to find a healthy version of this sinful winter drink.  I found so many options, but I did a variation on this Martha Stewart recipe.  If you like chocolate, but don't like things overly sweet, this is the drink for you… and it's super easy and can easily be made vegan…..
Healthy Hot Chocolate
1 cup unsweetened almond milk (I used Vanilla flavored)
1 cinnamon stick
1 Tbsp unsweetened natural cocoa powder (I used Hershey's)
1/2 oz dark chocolate (preferably at least 70 percent cacao), finely chopped (I used one square of Ghirardelli… if you're strictly vegan, check labels to make sure your chocolate is vegan)
1 Tbps Maple Syrup (use the good stuff if you want to make a New Englander happy) 
Pinch of Sea Salt
Bring milk and cinnamon sticks to a boil over medium heat. Remove from heat, and carefully remove cinnamon stick and reserve for garnish.
Whisk in cocoa, chocolate, maple syrup, and salt until dissolved and frothy.  Pour into your favorite mug, garnish with cinnamon sticks, and enjoy!
Makes 1 serving.
Kisses
Sarah
Feel free to comment/like/share with all of your fabulous friends
And don't forget to sign up for the Everyday Starlet mailing list…
LIKE Everyday Starlet on Facebook, Subscribe to the YouTube Channel…
…and Follow ES on Twitter, Pinterest, and Instagram