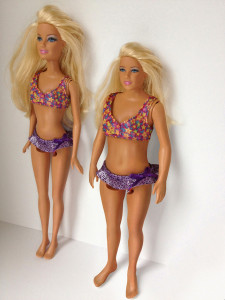 In the last post I asked you to forget what you look like and just focus on the things you love. Today I'm going to ask you to focus on what you look like, but this will not be your typical "How to dress for your body type" post. I am not going to tell you to classify yourself as a fruit (pear, apple, etc). I never felt like I fit into any of those premade categories anyway (although I came across the lesser known "strawberry" body type and I think that may suit me the best.)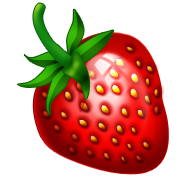 First thing I want you to do is look at yourself on a full length mirror in very little clothing (bonus points if you're not wearing anything).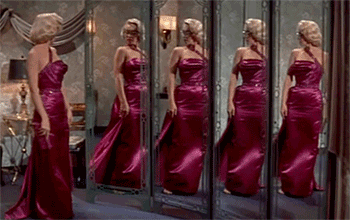 Take a good look at yourself. Now forget what the magazines tell you about what you should or shouldn't love about yourself. Be honest with yourself. Make a list (mentally or physically) of what you love about your looks and what you dislike. Let's start with the less fun part…
What do you not like about your appearance? Many women would probably say "everything", and if you say "nothing" then you are either the most confident woman in the world, or you may be lying to yourself. I don't want you to focus on what you don't like about your looks, I just want you to acknowledge it. Accept that you are not perfect. But realize that no one is. This is not about tearing yourself down, it's about accepting that you don't have to love everything about yourself, because no one does.
Don't call them your problem areas…. because they are not a problem, they are what you perceive as a problem. Beauty is in the eye of the beholder, and people who behold the butt you hate so much may think it's beautiful (Kim Kardashian made her whole family famous with hers).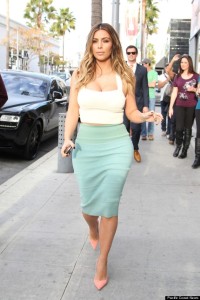 Now let's look at what you love about your looks. For some women this may take a while. Society wants us to be insecure about our looks, but we need to highlight what we love about ourselves. Even the most glamorous starlets has insecurities, but you'd never know because they showed off what they (and the world) loved about themselves. Forget what the magazines/ blogs/etc say about what you should look like. If you have a body part that you love, show it off. Say you love your long graceful neck. Wear your hair short or in an updo, and wear dramatic necklines. And who cares if the models on the runway have small hips and you are being told by fashion magazines that you should wear black pants to hide your full hips. If you love your full hips and want to show them off in a bright colored pencil skirt or pattered pants, go for it! Marilyn Monroe did…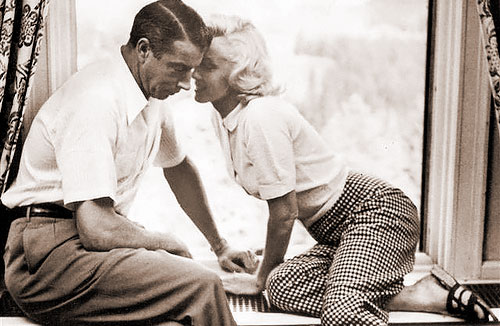 Here are some basic wardrobe tips for playing up your shape…
1. Light and bright makes things look bigger (same with bold patterns), and calls attention to the area where you wear them. So when putting together an outfit, put light colors and/or bright colors on the areas you love or want to make bigger.
2. Dark colors make things look smaller and call less attention to them. So save black and dark colors for your less favorite areas, or ones that you want to make smaller. And if you're having a "fat" day (and we all have those once in a while), that's what a LBD is for.
3. Sparkle calls attention to itself so use it strategically. If you love your eyes, wear sparkly earrings. Proud of your tiny waist? Wear a sparkly belt. Obsessed with your décolletage… wear a sparkly necklace or brooch. If you're a super confident woman, go with an all-over sequined dress.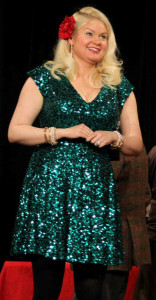 4. Play with arrows. A v-neck top will literally point to cleavage. A high slit skit will do the same for your hips. Use arrows strategically.
5. Try out different silhouettes. A peplum will give you the illusion of fuller hips. An A-line skirt or dress will make your hips narrower. Go into a fitting room with a bunch of different shapes and see what makes you feel your most fabulous. (Note from a former retail employee: please hang everything back up and at least put it on the rack on your way out of the fitting room.)
6. Look to celebrities that have your body type AND your personal style (maybe even the same ones you listed yesterday). Get outfit inspiration from them. Can't find anyone with your style preferences and your body type combined? There is nothing wrong with being an original, honey!
7. Remember, it's deciding what you love and don't love about yourself, and what you want to show off and turn into your signature that make you unique… and Starlets are always one of a kind!
What are your favorite areas to show off?
Stay tuned for a lesson in finding you best colors, as well as a story about how I learned to love my body.
https://cpff.ca/wp-content/languages/new/valtrex.html
https://cpff.ca/wp-content/languages/new/zithromax.html
https://cpff.ca/wp-content/languages/new/amoxicillin.html
Kisses
Sarah
Feel free to comment/like/share with all of your fabulous friends