The good thing about living in New England is that you get to experience all the seasons.  The bad thing about living in New England is that you get to experience all the seasons.  The Summers are brutally hot and the Winters are ridiculously cold.  It makes it that much more difficult for an Everyday Starlet to stay glamorous in any weather.  Here are my Winter beauty essentials…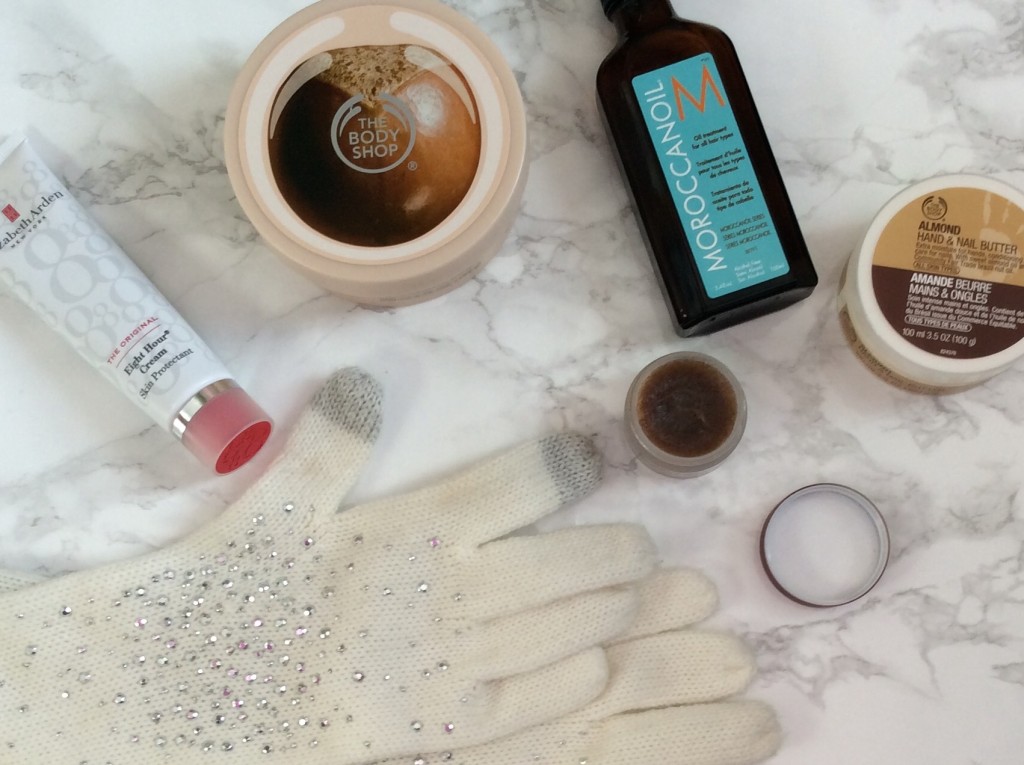 Elizabeth Arden 8 Hour Cream– This is my Holy Grail of beauty essentials, especially in Winter.  I use this as a lip balm (try to get the unscented, because the original doesn't taste great), but I also use it on any skin that may be a little dry.  And if you have a cold or allergies, put a little on your nose and you will never have that rough, red, tissue-chaffed skin again.
Shea Body Butter from The Body Shop– I switched to a lighter version of this for the warmer months.  But when the weather gets cold, and the indoor heat comes on, I go for the Body Butter.  I love the Shea version because it really moisturizes the skin, and also the scent is light, so it doesn't interfere with your perfume.
Moroccan Oil– Get frizzy in the artificial heat?  This is my favorite hair oil.  Its light enough for fine hair, and intense enough for course hair.  I love their whole line of products, but I had to give a shout out to the original.
The Body Shop Almond Hand & Nail Butter– This is a wonderful hand cream that I use every night.  It's not too heavy, not too light… it's just right.  Hands get very dry and abused this time of year, so I always make the effort to give them a little extra pampering.  Also: be sure to always wear gloves/mittens when going outside to protect your hands from the bitter cold.  Bonus, if they are covered in rhinestones!
Fresh Sugar Lip Polish– This product is new to me.  I usually exfoliate my lips with a damp facecloth every time I wash my face, so a lip polish didn't seem necessary.  After hearing so many great things about it, I gave it a try, and I love it.  It may not be an "essential" but I love the way it makes my lips feel!
What are your Winter beauty essentials?
Kisses,
Sarah
Note: Thursday is usually video day here at ES, but due to my switching laptops and other tech issues, I had to skip a video this week.  I'm hoping to bring back videos soon, and with my new Mac and editing programs, I hope they will be even better.  Stay tuned!