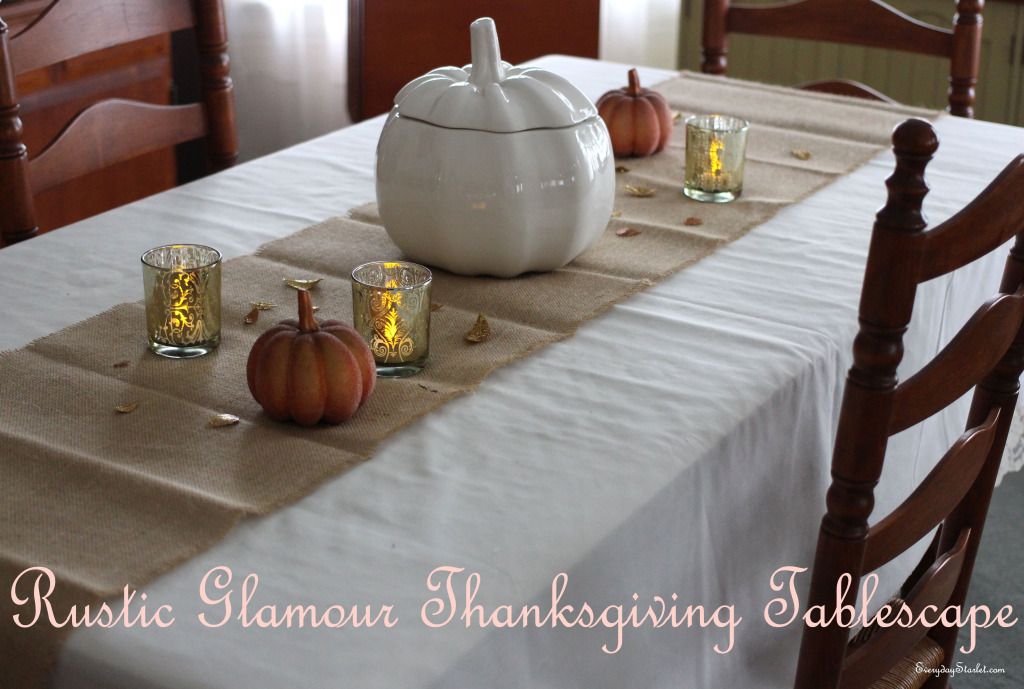 I wanted to design a Thanksgiving tablescape that was affordable, easy, and glamorous.  So I did what I always do when I need inspiration: I make a date with Pinterest.  After what seemed like hours of Pinning (probably because it was…. Pinterest is so distracting.  "Who cares that I'm not planning a wedding… I can on Pinterest") I found inspiration.  I decided to go with a rustic glamour look because it felt very Fall, and it mixed a modern look with a vintage glamour… and that's what ES is all about…
I used a tablecloth that my Mom had lying around in a pretty ivory with a lace trim.  I bought a very inexpensive burlap runner, and bought some gold pattered votives and glitter leaves that were on sale at Michaels.  I added iridescent pumpkins and a large ceramic pumpkin that I've had for years… and POOF… instant glamour.
This tablescape is a little simple, but I wanted to leave plenty of room for the food… that is, co course, what Thanksgiving is all about.  I'm really excited to go all out for my Christmas tablescape… stay tuned!
Kisses
Sarah
Feel free to comment/like/share with all of your fabulous friends
And don't forget to sign up for the Everyday Starlet mailing list…
LIKE Everyday Starlet on Facebook, Subscribe to the YouTube Channel…
…and Follow ES on Twitter, Pinterest, and Instagram