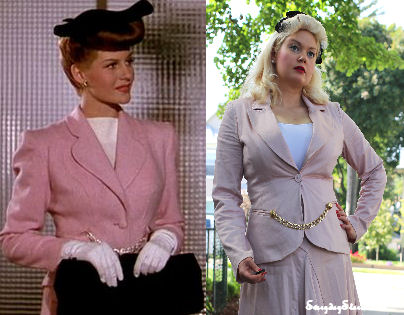 One of my favorite films is Cover Girl with Gene Kelly and Rita Hayworth. I love the dancing, the love story, and, of course, the fashion. If you love 1940s style fashion, this is the film for you. In one scene, Rita attends an interview at a major fashion magazine in the ultimate is girly attire, a pink suit! So I used her look to inspire my latest OOTD. I paired this suit that I I've had in the back of my closet for years with a vintage velvet hat, pearls, a shapewear tank, and my DIY chain accent pin…
buy zantac online https://bethanyhealthcare.org/wp-content/languages/new/zantac.html no prescription
Here is how to do the bumper bang… and stay tuned for tomorrow where I show how to make the DIY Chain Accent Pin.
Kisses
Sarah
Feel free to comment/like/share with all of your fabulous friends
And don't forget to sign up for the Everyday Starlet mailing list…
buy zestril online https://bethanyhealthcare.org/wp-content/languages/new/zestril.html no prescription
LIKE Everyday Starlet on Facebook, Subscribe to the YouTube Channel…
buy zetia online https://bethanyhealthcare.org/wp-content/languages/new/zetia.html no prescription
…and Follow ES on Twitter, Pinterest, and Instagram