Its no secret that Starlets, love to entertain… stage, screen, at home…. anywhere!  When entertaining at home a Starlet likes low key parties… after all, her life is always so exciting when she leaves the house that her time at home is a place for relaxation… or maybe seduction.
Guest List
Many times a Starlet can feel like her life is on display.  She may feel like people are always talking about her… (and if you're truly living like a Starlet, they probably are)… so her home is her sanctuary.  So a Starlet is very selective about who she invites into her lair.  She will only invite close friends and people she trusts (Marilyn Monroe even had a list of guest rules for her gatherings).  


If you must indulge in gardening—use your own garden.
Show appreciation to your hostess.
No gossip please ("Why, she is at least 40!").
It is quite proper to bring a present.
Please do not steal our cook.
Ashtrays means for ashes.
Even our whiskey supply has it limitations.

When selecting a guest list, a Starlet will also try to invite people of similar interests, and for dinner parties, she will handwrite place cards and seat in traditional boy/girl/boy/girl format.
Theme
Sometimes holidays provide a theme and other times a Starlet will create her own, but every party has a theme.

 

The options are endless!

 

Glamour Goddess Dita Von Teese has garden arts parties where she invites all of her guests to bring an artistic endeavor to share.

 
Party Prep
Before a party a Starlet will get domestic and do a good old fashioned housecleaning (Marilyn Monore actually loved to vacuum).
Décor
Starlets love glamour, but they don't go over the top with party décor.

 

She likely collects vintage vases and bowls, so some fresh flowers (Audrey Hepburn's favorite) and some fresh fruits along with some candles for ambiance will do the trick.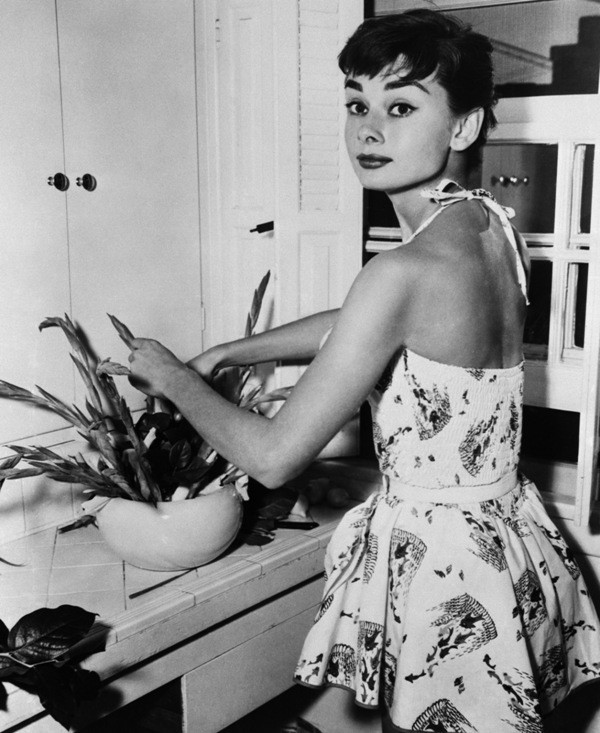 In an interview with New Potato, Dita says, when asked what new thing she'd like to have when hosting a get together she said…
"My antique typewriter for guests to write notes on."
And, it's always nice to leave guests with a favor.

 

It can be as simple as a recipe card with a cocktail or menu recipe on it.
Music
Every party requires its hostess to set the mood and music is the perfect way to do that.

 

The style of music depends of the theme and the guest list.

 

When in doubt, a Starlet always goes with Frank Sinatra and other classic artists.

 
Activities
Some party themes lend themselves to certain activities, and some are just about socializing.

 

Starlets love games (card games, charades, board games) and may break them out for some parties, but her sparkling conversation are usually entertainment enough.
Stay tuned for cocktails and menu ideas for entertaining at home, Starlet Style! 
Feel free to comment/like/share with all of your fabulous friends