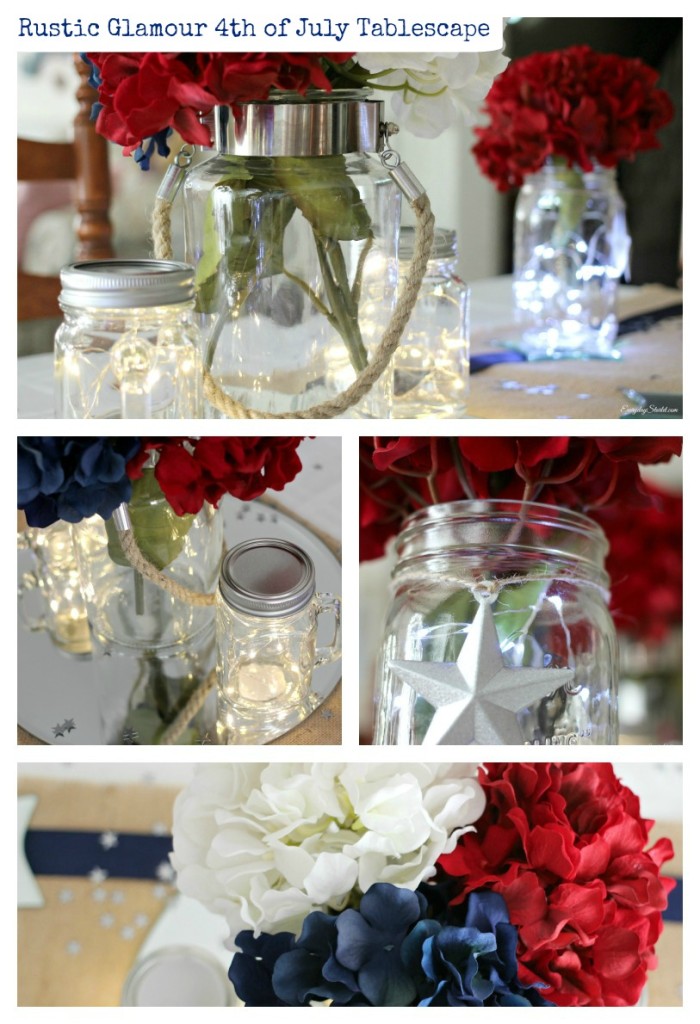 When it comes to me and tablescapes, you may have noticed theme: Rustic Glamour.  It's my go-to look for holiday decor.  It's a way of making glamour seen a little more livable.  I want my holiday decor to be elegant but touchable.  So I set out to create a 4th of July table that had the same feel as my Christmas, Valentine's Day, Easter, St. Patrick's Day, and Oscars tables.  I scoured Pinterest and craft stores for some inspiration, but nothing I found had the elegant feel I wanted.. or it was way too expensive.  So after a few trip to Michaels, and a few searches through my tablescape accessory collection (which is becoming quite large… although not nearly as bad as my fashion accessory collection), I found the look I wanted…
I started, as usual, with a burlap table runner.  I added navy satin ribbons down the center to feel like nautical stripes (I only did 2 because I ran out of ribbon for 3).  Then I used my round table mirror for Michaels, and a cute lantern vase that I found at Michaels on sale (I love the rope detail).  I went with faux hydrangeas in red, white, and blue, because I wanted a table that would last a while and I love the colors of these.  The deep red, and the navy made them feel sophisticated.  I added some mason jars with twinkle lights to feel like a Summer night catching fireflies.  For the jars with lids, I taped the controls to the lid… for the jars with flowers, I hid the controls in the flowers.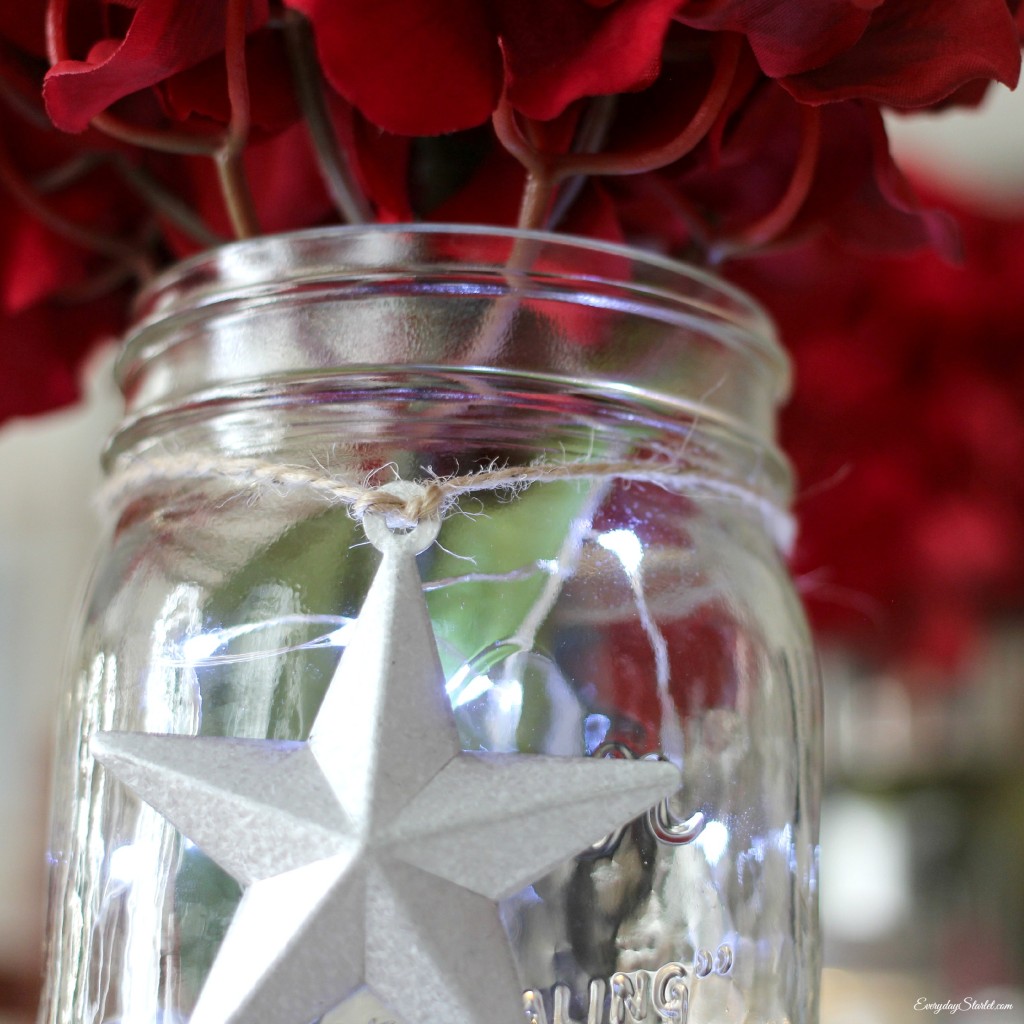 I also picked up some metal star tags at Target to dress up the jars.  I finished the look with metal star confetti from Crate & Barrel that I've had for a long time but never used.  It's so great because it has a magnet that you can use to collect them when your done.. unfortunately I haven't been able to find more of it anywhere…. a Starlet can never have too many stars!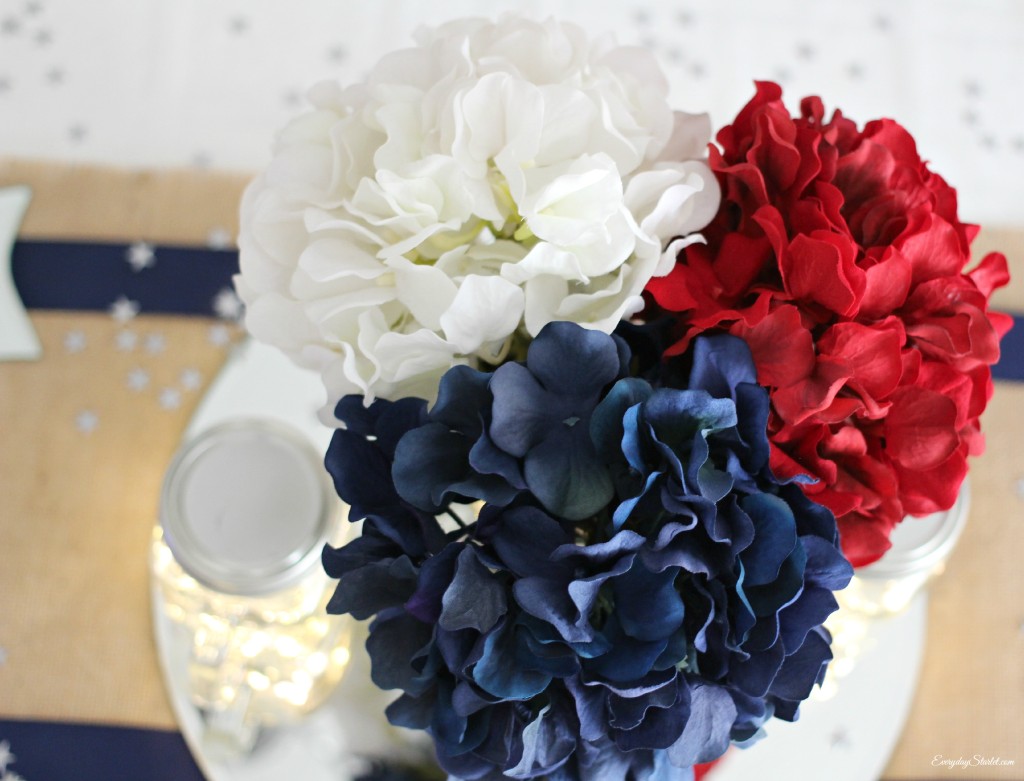 I'm so happy with the finished look.  I didn't spend a lot of money, but I think it looks like I did… which is always my goal!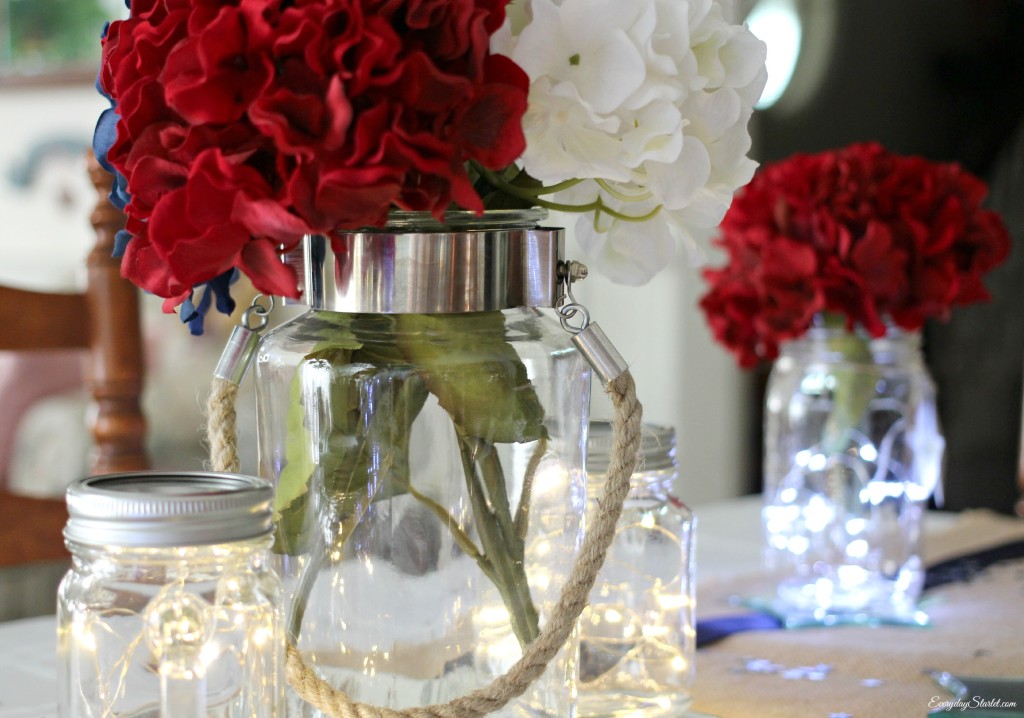 Here's what I used:
How will you be spending the 4th of July?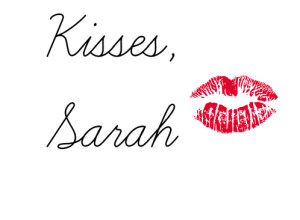 This post/video is not sponsored.  All opinions are my own.  All products mentions were purchased by me unless noted with an asterisk (*).  This post contains affiliate links, that means that if you purchase any of these products, I receive compensation, through no extra charge to you.  That income will go towards making ES even better.