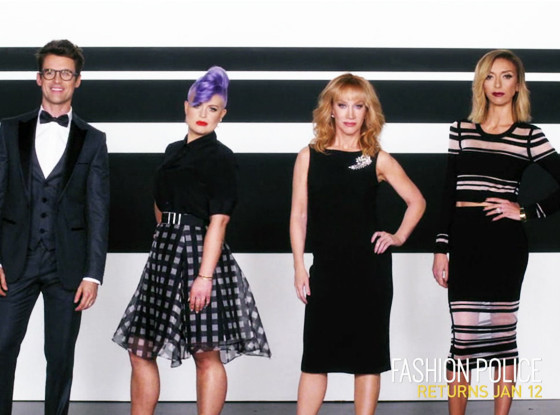 Many of you may know that my favorite TV show (well, current one anyway) is Fashion Police.  I loved and idolized Joan Rivers, and while her comedy style was different than mine, I had a huge amount of respect for her.  So when they announced that Kathy Griffin was taking over her job as host of Fashion Police I was skeptical.  I was not a fan of Kathy Griffin for a long time, but I read her book, and, as a fellow comedian, gained a great deal of respect for her.  I will admit that her biting humor is similar in tone to Joan's, but she is not a joke writer (and she would admit that), and she has little-to-no fashion background.  I was still willing to give the show a chance.  I watched the first episode with Kathy on Monday night… it was the Golden Globes red carpet episode.  I'll start with what I didn't like….
Kathy was just not funny.  I know she can be.  I don't know if she was holding back, or if the pressure of living up to a legend got to her, or if her lack of interest and/or knowledge of fashion held her back…. but she wasn't funny.  Maybe Joan just had better writers, I don't know. I didn't expect her to be EXACTLY like Joan, but I did expect her to be funny.
Kathy didn't really say a whole lot.  It left Giuliana Rancic doing most of the talking, and while I don't have a problem with G, I can (and do) already hear her fashion opinions on E! News.
There was no energy.  Joan always had an energy about her that was contagious.  I know that Kathy has more of a laid back style, but someone needed to bring some caffeine to the shoot, because it felt flat.
I like Brad Goreski, but he's no George Kotsiopoulos.  I really grew to love George, and I miss him on the show… but Brad was funny (funnier than Kathy actually) so I'll give him a shot.  Plus, I don't think Kelly Osbourne was feeling well.  She sounded contested, and didn't seem to be her bubbly self.  But everyone has an off night so I'll let it slide.
What I liked….
They talked more about the fashion.  The biggest complaint I had about the show before was all the interviews and the location shoots…. sometimes there were important gowns that we never even got to talk about because of all the other stuff.  I love that they focused on the fashion and not the other stuff.  I hope they keep that going throughout the show…. with maybe an occasional guest (I'd love to see Brooke Shields as a guest, reunited with Kathy).
I loved that Kathy went after Clooney's bride Amal Alamuddin.  Putting on her gloves, and picking her as worst dressed was a total Joan move.  Joan was great at calling out people with bad attitudes on the carpet, and Amal definitely was giving snob that night.  It was when they talked about Mrs. Clooney that Kathy finally started to loosen up and start with the snark… which is what we want from this show.
All in all, I was disappointed but not surprised at the first episode back since Joan's passing.  I'm willing to give it another chance.  And if anyone knows anyone at E!… I know of a female comedian who knows about fashion… and yes, I am available.
Did you watch the show?  What did you think?
Kisses,
Sarah