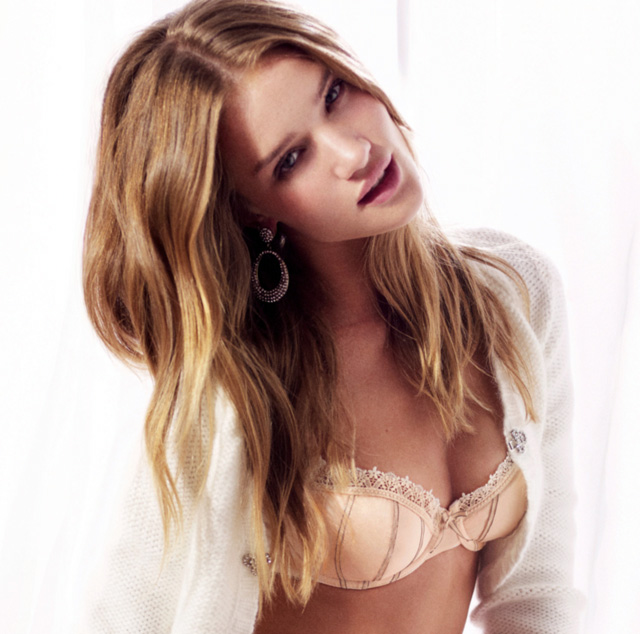 Continuing Supermodel week her at ES, Monday we looked at the body, Tuesday we looked at beauty tips, yesterday we had an example of Supermodel makeup… but I thought Supermodel hair deserved a post of its own.  Yes, models are gorgeous, with perfect bodies, and flawless skin… but who can get past their hair (okay, so maybe most people, but I love their hair).  Models seem to have that effortless look that makes their hair seem perfectly styled, yet completely natural at the same time.  Here are some tips to get that look, no matter what type of hair you have….
Hair Care
As with skin, good have starts with healthy hair.  Models' hair gets abused on photoshoots, and runway styling.  So yet know when to take a vacation… from styling, that is.  Models rarely do anything to their hair on days off.  They know not to shampoo everyday so as to not dry out the hair even more.  It's also important to let the hair air dry whenever possible.
As far as product, a good hair oil is worth its weight in.. well, oil.  Moroccan oil is my favorite, and Rosie Huntington-Whiteley is the new face of the company… and who doesn't want her hair!
I would also recommend a great hydrating hair mask once a week, as well as a weekly protein treatment to repair damage (my favorite is by Joico).  You can also try a pre-shampoo oil… hair loves oils.
Another Supermodel trick is to sleep with your hair in a bun.  It keeps it from getting tangled while you sleep, and you'll get natural, bouncy waves the next morning.
Cut & Color
While some models have made a splash with wild hair cuts and colors, most keep it simple and natural.  Models are supposed to be blank canvases for fashion art.  So they tend to keep their hair color natural (or at least looking like it's natural), and their cut is usually long and lightly layered.  To keep hair healthy, they get trims every 4-6 weeks.
Styling
When a model is not working, styling is kept to a minimum.  However, nights out usually call for a sleek undo (so their outfit can get all the attention… it was probably a gift from the designer after all), or Bombshell waves.  So any model worth her salt (please, like they eat salt, they would bloat) has a round brush, blowdryer, late curling iron, and velcro rollers on hand.
Which Supermodel has hair you envy?
Kisses,
Sarah
Image via Flickr