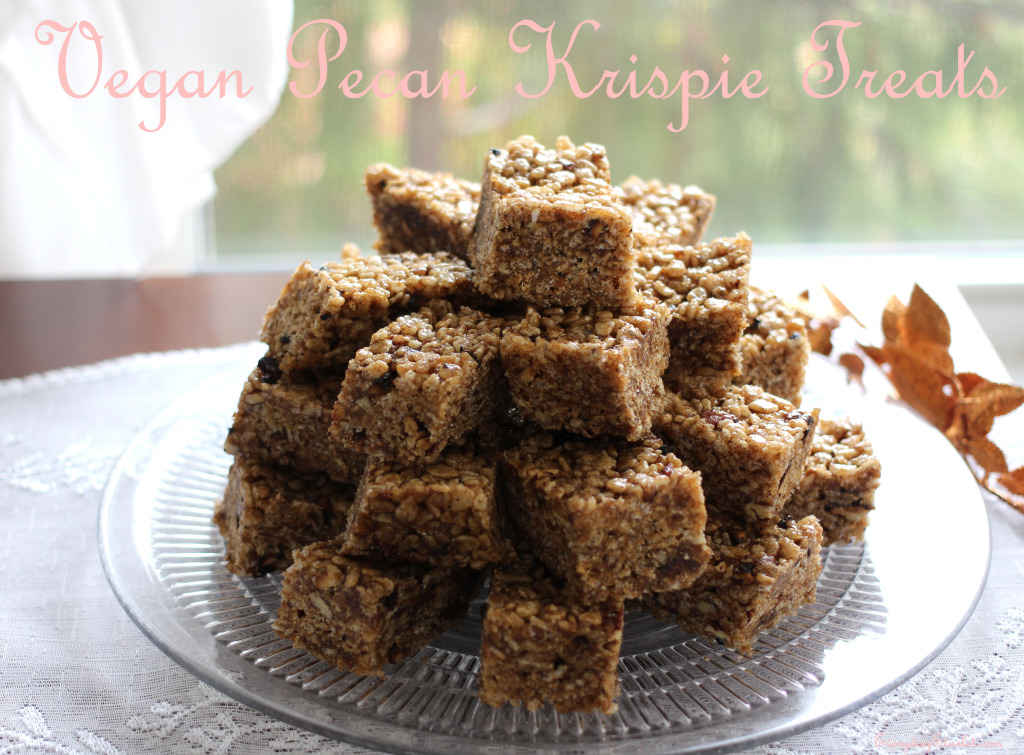 When I was little, at holiday time here in New England there always seemed to be maple-pecan candy around (I use the term "little" ironically, because the way I ate made me a very not-little child).  The original recipe calls for a lot of ingredients that are not friendly to the waistline.  So I decided to make this vegan version of pecan candies in rice krispie treat form.  The recipe is a variation on a marshmallow-less krispie treat recipe that I made here (this is the original recipe).  Full disclosure: the ones I made are with honey so they are not technically vegan, but you can easily substitute agave if you are a strict vegan.
Vegan Pecan Maple Rice Krispie Treats
2 Cups Pecans, chopped
Maple Syrup (as needed)… (and use the good stuff if you want to be a true New Englander)
1 cup brown sugar
1 cup honey (or agave if vegan)
7 cups Rice Krispie Cereal
Toast all the Pecan in a sauce pan until lightly toasted (this is optional but will give a great flavor). Let cool.
Place a little more than 1 cup of the Pecans in a blender (I used Vitamix) and blend until smooth… adding maple syrup as needed to thin out the pecan butter.
Combine brown sugar and honey in a large saucepan and bring to a near boil, stirring until sugar is fully dissolved
Remove from heat and add pecan butter and the rest of the pecans
Gently stir in Rice Krispies until fully coated
Press into a 13 x 9 x 2″ greased baking pan
Refrigerate for 2-3 hours
Kisses
Sarah
Feel free to comment/like/share with all of your fabulous friends
And don't forget to sign up for the Everyday Starlet mailing list…
LIKE Everyday Starlet on Facebook, Subscribe to the YouTube Channel…
…and Follow ES on Twitter, Pinterest, and Instagram