Warning: the explanation of how I came up with this recipe is a little confusing…my own family still doesn't really get it…. but they all agreed that this dish is yummy, so I guess it doesn't really matter.  Here goes…
I wanted a special recipe for my traditional family tree trimming night.  For some reason fondue always comes to mind.  I love a cheese fondue.  A few years back when I lived alone, I used to make a dinner out of cheese fondue and a loaf of French Bread (with a few veggies thrown in to make it a balanced meal).  But when my pants started to get harder to zip, I knew I had to ease up on the cheese.
This year, I am avoiding dairy completely in the hopes of not getting any of the colds and flus that seem to be infecting everyone I come in contact with. As a result, I have been making a lot of risottos… which are great because they get a creaminess from the rice itself, so no dairy needed.  My favorite is this Dirty Risotto recipe (which I make all the time with black beans instead of sausage, and I used it as a guide for the times and amounts for my recipe)
It was while I was mixing a risotto one day that I realized that I could make a basic risotto recipe, and use the same flavors as a traditional cheese fondue (garlic, white wine, etc) and just replace the cheese with rice and stock (I use veggie stock but if you're not vegan you can use chicken).  So I found a basic fondue recipe and married it to a basic risotto…. the result was delicious!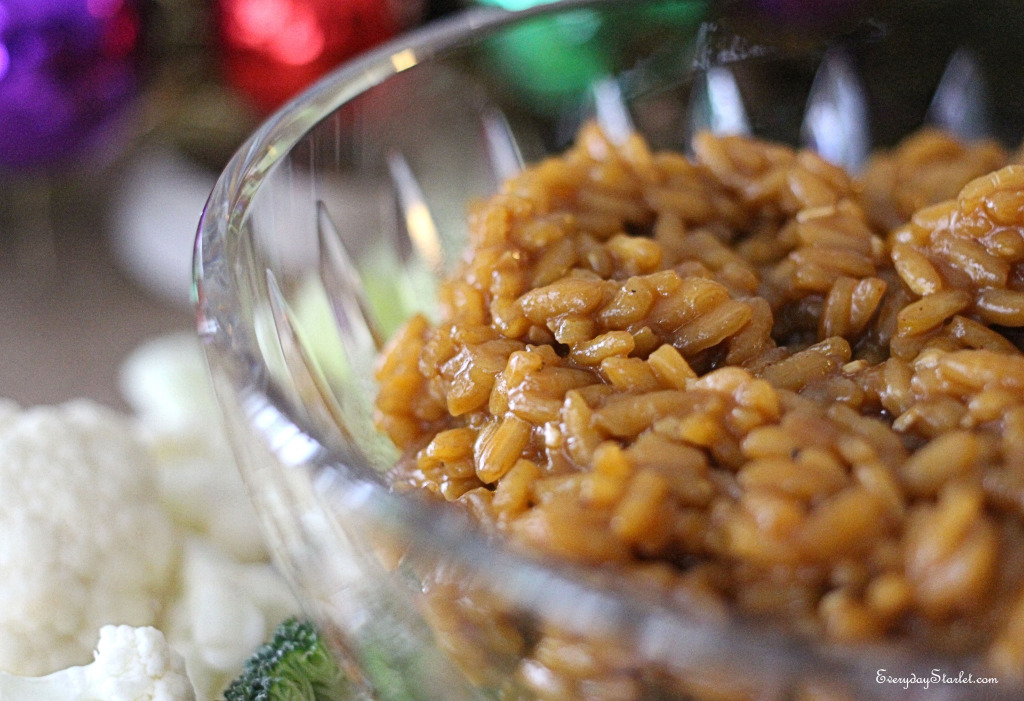 Vegan Fondue Risotto
5 Cups Vegetable Stock
Olive Oil
3/4 cup finely chopped Onion
Clove of Garlic
1 1/2 Cups Arborio Rice
3/4 Cup White Wine (I used Chardonnay)
1 Tbsp Lemon Juice
1 Tbsp Cherry Brandy (usually Kirsch, but this is optional)
1/2 Tsp Dry Mustard
Pinch Nutmeg
Salt & Pepper to taste
In a medium saucepan, bring the stock to a simmer. Cover and keep warm over low heat.
In a large pan, over medium heat, coat bottom of pan with olive oil. Add the onion and cook until translucent. Add the garlic and stir.  Add the rice and stir to coat. Add the wine, lemon juice, brandy (if using), mustard, nutmeg, and salt/pepper and simmer until the liquid has almost completely evaporated. Add 1/2 cup of stock and stir until almost completely absorbed. Continue cooking the rice, adding the broth 1/2 cup at a time, stirring constantly and allowing each addition of stock to absorb before adding the next. Remove from the heat and place in a serving bowl. Serve immediately and enjoy.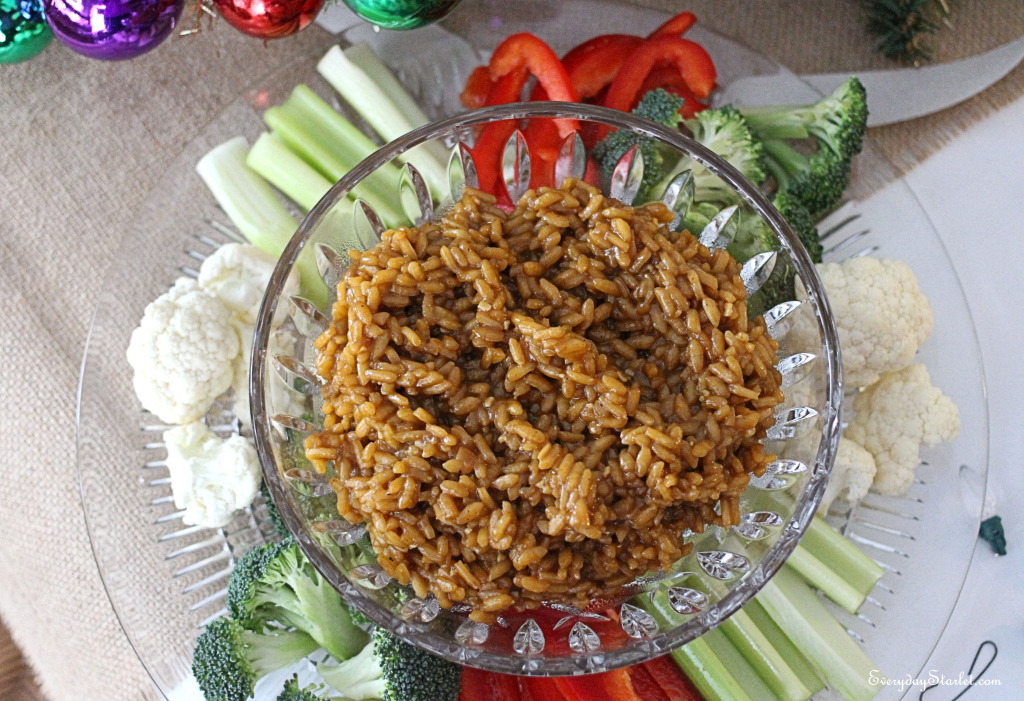 I served mine with raw veggies to make it look like a fondue…. but, while it tasted great, it can be a little weird to eat cold veggies with a hot dish.  So you can always pick your favorite veggies and cook them into the risotto.  It will still be fabulous!
Kisses
Sarah
Feel free to comment/like/share with all of your fabulous friends
And don't forget to sign up for the Everyday Starlet mailing list…
LIKE Everyday Starlet on Facebook, Subscribe to the YouTube Channel…
…and Follow ES on Twitter, Pinterest, and Instagram