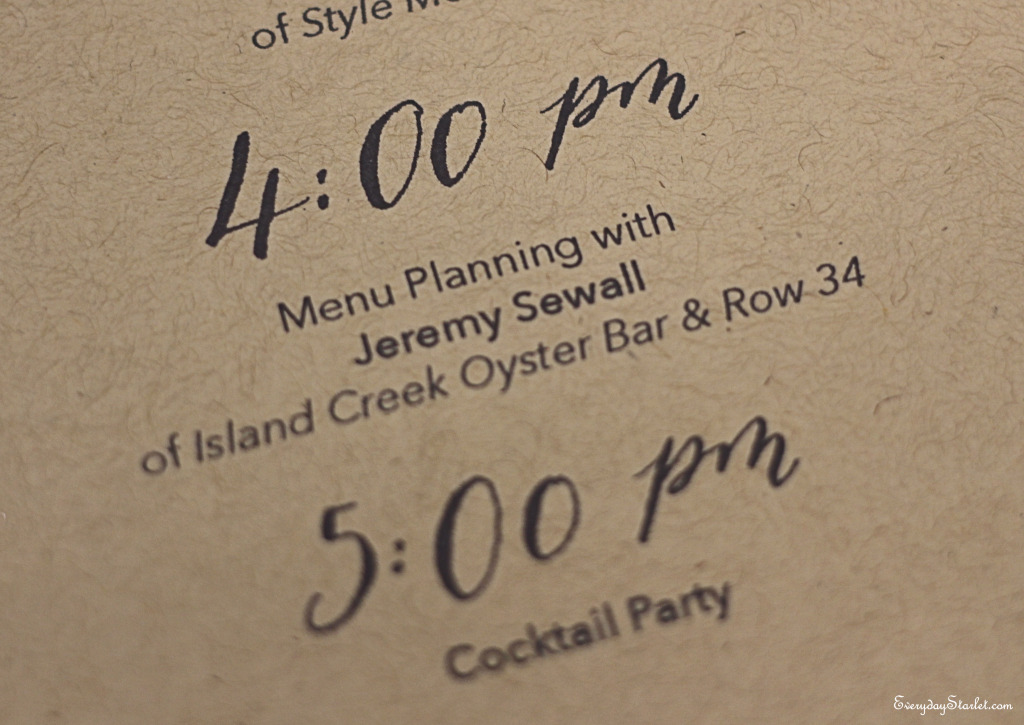 At a recent Boston Blogger event I had a chance to get some holiday menu planning tips from one of Boston's top chefs, Jeremy Sewall of Island Creek Oyster Bar & Row 34.  Here's what I learned…
Plan ahead.  Do as much as you can ahead of time, and as far in advance as you can.  If anything can be made in advance, it should be, so that the holidays are only for reheating, putting on finishing touches, and for things that need to be served immediately. It will make your holiday less stressful.  (Bonus tips I learned: Sewall, a top Boston chef, reheats his Thanksgiving gravy in the microwave… he says it's less likely to burn that way, and you don't have to monitor it as closely as you would if it was on a stovetop.)
Know your audience.  Sewall told an amusing story about the first time he cooked a Thanksgiving dinner for his family.  Apparently he tried to get fancy and his mother and sisters were so upset they never let him live it down.  "I think they ordered pizza," he joked.  The lesson is, know who you're cooking for.  If you have a family who likes things a certain way, be careful how far you stray from that.  That's not to say you can't experiment, but mix in some classics for the finicky eater.
Get professional help.  I don't mean therapy (unless you need it, of course)… but it's holiday time, don't stress yourself out.  If baking isn't your thing, buy a pie.  There is nothing wrong with buying some pre-made food from experts who know what they're doing.
How do you get to Carnegie Hall?… Practice.  If you're trying a new recipe, do a trial run before the big day.  I know, in my house, I never have a lack of guinea pigs willing to taste-test for me.
"Mushrooms are a great thing" says Sewall.  Mushrooms are a great go to food.  Most people like them, they are versatile, and they work well in so many dishes.
These are just a few tips, but I hope they make your holidays run a little smoother.  If you have any holiday tips, please share!
Kisses
Sarah
Feel free to comment/like/share with all of your fabulous friends
And don't forget to sign up for the Everyday Starlet mailing list…
LIKE Everyday Starlet on Facebook, Subscribe to the YouTube Channel…
…and Follow ES on Twitter, Pinterest, and Instagram